CountryMusicFestivals.net lists Country Festivals in Canada and the USA. Country Music Festivals is proud to be the most complete, user friendly Canadian Country Music Festival Guide.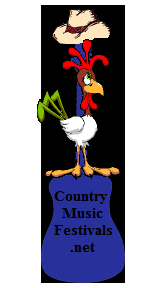 Canadian Country Music Festivals
Music Festival Guide for 2018 Country Music Festivals in Canada
Big River, Saskatchewan - Canada
6/21/2018 - 6/23/2018
Shantaia Poulin, Brock Andrews,
The Dirt Rich Band, The Sundrops,
Dauphin, Manitoba - Canada
6/28/2018 - 7/1/2018
Florida Georgia Line,
Paul Brandt, Eric Church,
The Road Hammers, High Valley,
Luke Combs, Emerson Drive,
Chris Henderson, Dallas Smith,
Cavendish, Prince Edward Island
7/6/2018 - 7/8/2018
Luke Bryan, Brett Eldredge,
Chase Rice, Chris Young,
Shawn Mendes, Granger Smith,
Calgary, Alberta - Canada
7/6/2018 - 7/15/2018
Blake Shelton,
Luke Bryan
formerly Craven Country Jamboree
Craven, Saskatchewan - Canada
7/12/2018 - 7/15/2018
Luke Bryan, Dierks Bentley,
Chris Young, Big & Rich,
Dean Brody, Clay Walker,
Lindsay Ell, Jess Moskaluke,
Hunter Brothers, Lanco,
London, Ontario - Canada
7/12/2018 - 7/12/2018
"Country Music one day this year"
Kelsea Ballerini, Lady Antebellum,
Brett Young, Jason Benoit
Merrit, British Columbia - Canada
8/2/2018 - 8/5/2018
Eric Church


Bothwell, Ontario - Canada

8/2/2018 - 8/6/2018
Nice Horse
Camrose, Alberta - Canada
8/2/2018 - 8/5/2018
Thomas Rhett, Alabama,
Florida Georgia Line,
Brett Eldredge, Jess Moskaluke,
Billy Ray Cyrus, Aaron Goodvin,
(More Artists>)
Sunfest 2018
Country Music Festival
Cowichan Valley, British Columbia
8/2/2018 - 8/5/2018
Eric Church, Brett Young,
Midland, George Canyon,
Dallas Smith, Meghan Pathick,
Aaron Pritchett, Jo Jo Mason,
James Barker Band
Aylesford, Nova Scotia - Canada
8/02/2018 - 8/05/2018
Total Country, Blue Denim,
Claudette Norman, Sidekixx,
Myra LeBlanc, Yesterday,
Shelly Joyce
8/9/2018 - 8/12/2018

Florida Georgia Line,
Alan Jackson, Thomas Rhett,
Billy Currington, Brett Young,
Dallas Smith
Little Current, Ontario - Canada
8/9/2018 - 8/11/2018
Emerson Drive, George Canyon,
Billy Ray Cyrus, Dan Davidson,
River Town Saints, Dani Strong
Amherst Island, Ontario
Canada - (More info)
8/10/2018 - 8/12/2018
The Western Swing Authority,
Beartracks,
The Reasons
Havelock, Ontario - Canada
8/16/2018 - 8/19/2018
Toby Keith, Dean Brody,
Tim Hicks, Doc Walker,
Tanya Tucker, Ned LeDoux,
Hunter Brothers, Charlie Major,
Calgary, Alberta - Canada
8/17/2018 - 8/19/2018
Eric Church, Toby Keith,
Dean Brody, Jess Moskaluke,
Madeline Merlo, Lindsay Ell,
Bryan White, Hunter Brothers,
Stony Plain, Alberta - Canada
8/17/2018 - 8/19/2018
Lucknow, Ontario - Canada
8/23/2018 - 8/25/2018
Hamilton, Ontario - Canada
9/6/2018 - 9/9/2018
All Rights Reserved 2018 Country Music Festivals
New Artists Playlist 100+ songs

Sell tickets to your festival on this site. (Click here) for more info on how we can help you reach more fans