Country Music Festivals 2020 lists your favorite Country Festivals.
is proud to be the first to bring you the
and the hot new country artists of 2020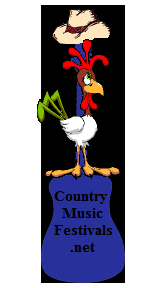 Sell tickets to your festival on this site.
(Click here) for more info on how we can help you reach more fans
2020
Country Music Festivals
in USA and Canada
Leaving Ft. Lauderdale Florida for the Caribbean
1/25/2020 - 2/01/2020
Randy Owen, Tracy Lawrence,
The Oak Ridge Boys,
The Gatlin Brothers,
Ben Haggard, Wade Hayes,
Larry the Cable Guy
Forest City, Iowa
5/21/2020 - 5/24/2020
Artists TBA
7/09/2020 - 7/11/2020
Artists TBA
Rhinelander, Wisconsin
(More info)
7/09/2020 - 7/12/2020
Artists TBA
Havelock, Ontario
Canada
8/14/2019 - 8/17/2019
Artists TBA
We are dedicated to the Country Music Festivals, the Artists, and the Fans.
© Copyright Country Music Festivals